The festive season is not too far away now. In our home, we love the holiday season and especially the yummy food we cook and enjoy together as a family.
And one of our favorite dishes is this easy-to-make 'Best Christmas Breakfast Casserole' dish.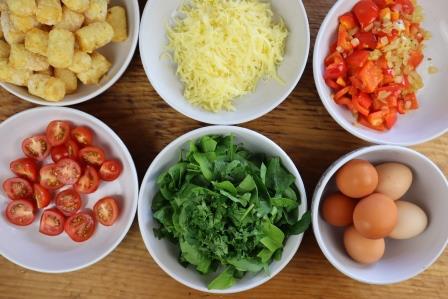 One of the best things about this tasty Christmas breakfast casserole dish is the fact that you can prep the ingredients in advance and just put everything together in the morning.
You could add ham or bacon to the casserole as well. But a few members of my family are vegetarians and therefore it is a great way to cater to everyone. And trust me, you won't miss the meat part.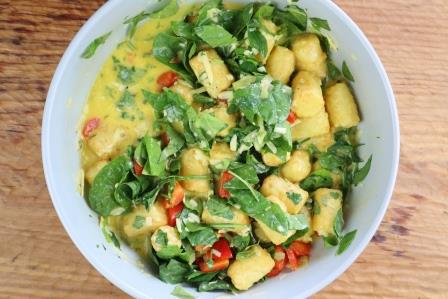 The tater tots give this dish a lot of substance and a special extra yumminess. I just love the vibrant colors like the bright green from the spinach, the glorious red bell pepper, and the yellow from our farm fresh eggs.
I like to serve this Christmas casserole with our favorite dip which my whole family loves. You'll find the recipe and video link in the recipe notes below.
To top it off, I also make a little salad with crunchy salad leaves, refreshing cucumber, and avocado on the side.
The good news is that you don't need to wait for Christmas to make this yummy breakfast dish. It is also ideal for a light lunch or dinner in the summertime.
You could add other vegetables like broccoli, courgettes, sweetcorn, green and yellow bell pepper – anything goes. Just try and find the combination of your favorite vegetables.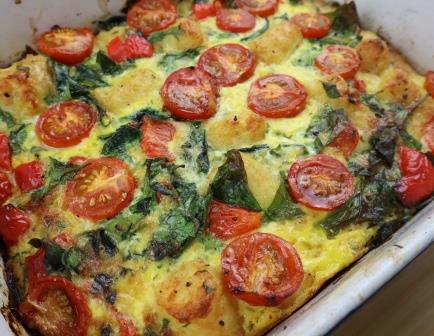 I do hope that this recipe becomes a staple on your Christmas breakfast list. Enjoy this beautiful dish and have a fantastic holiday season.
The Best Christmas Breakfast Casserole Dish
Here is the printable recipe. Feel free to share with your friends and family.
The Best Christmas Breakfast Casserole
This delicious (you can make ahead) Christmas breakfast casserole dish is so tasty and yet so easy to make. Take the stress out of the festive season and enjoy a scrumptious breakfast (not only) on Christmas day.
Equipment
Large casserole dish

Cheese grater

Smaller bowls or plastic containers to store ingredients if made the day before
Ingredients
Egg mixture
6

large

eggs

1

cup

milk

salt and pepper to taste
Ingredients to go into the casserole
1

red

bell pepper/capsicum

1/2

brown

onion, diced

100

grams

baby spinach

1

bunch

flat parsley

1

cup

grated cheese (I used Colby cheese)

2

cups

frozen tater tots

1

cup

cherry tomatoes, halved

salt and pepper to taste
Extra
1/3

cup

extra virgin olive oil
Instructions
Prep All The Ingredients
Wash and cut the bell pepper. Take the seeds out and cut them into smaller pieces.

Heat up 2 tbsp of olive oil and fry the bell pepper and onion on medium to low heat until the onion is translucent. Set aside.

Roughly chop the spinach and set it aside.

Finely chop the parsley and add to the spinach.

Grate the cheese and set it aside.

Get the tater tots ready. They should be still frozen.

Cut the cherry tomatoes in half.
The Egg Mixture
Crack the eggs into a large bowl.

Add the milk and season with salt and pepper.

Mix well with a fork or whisk.
Put It All Together
Now add all the ingredients you have prepared earlier to the egg mixture, except the cherry tomatoes.

Put the mixture into the casserole dish.

Even the mixture out. Put the halved cherry tomatoes on top. Season again with salt and pepper and drizzle over some olive oil.

Bake in the preheated oven at 180 Degrees Celcius/350 degrees Fahrenheit fan-forced for 45 minutes or until set in the middle.

Once cooked, let it cool down for a few minutes. Serve with a side salad and our favorite dip. Refer to recipe notes for more details.
Video
Notes
Here is how to make our favorite dip that goes perfectly well with the Christmas breakfast casserole dish but also our corn fritters, our potato bread, and rustic sourdough focaccia bread.
Mix equal parts of sour cream and mayonnaise (e.g. 3 tbsp sour cream and 3 tbsp mayonnaise) in a medium-sized bowl. Add 1 clove grated garlic, chopped chives (to your liking), a dash of extra virgin olive oil, and salt and pepper to taste. Mix well with a fork and it is all done.
Here is a short video, if you prefer: https://youtu.be/5EaS0lfJKcc