Wo doesn't like Crepes, the delicate French version of a pancake,  especially delicious served with Nutella, whipped creme, and sprinkled with some chopped nuts?
Our post reviews the best crepe makers available on the market in 2023 and with their help, you can soon enjoy crepes just like in Paris.
No matter what your favorite toppings are, a fresh homemade crepe is a delicacy everyone loves. It has never been easier to make these thin, slightly crispy pancakes at home with various electric crepe makers and crepe pans, whatever you prefer.
The different options and choices of crepe makers can be quite overwhelming, so we have divided our post into three sections. For quick reference, please check the table of contents.
We have reviewed
Electric crepe makers that can be used as a griddle to cook other breakfast items like pancakes, eggs, bacon, or omelets; just to name a few.
Electric (cordless) crepe makers with dipping pan.
Crepe pans.
* Please note: all product links in this product review are affiliate links. That means, as an Amazon Associate I earn from qualifying purchases.
---
Our Winner – Cuisinart International Chef Crepe, Pizzelle, Pancake plus Review

The Cuisinart International Chef is our winner for various reasons. Unlike the other crepe makers, the Cuisinart International Chef has a lid that presses the batter down to create a very thin pancake and serves as the top cooking plate.
That means you don't need to spread the batter out and you don't need to flip the crepe either (which can be quite challenging in itself).
Best of all, the Cuisinart is so versatile with the reversible plates that you can either use it on one side as a pizzelle maker, and the flat side for making crepes, pancakes, blintzes, or tortillas.
Just press the buttons to release the plates and flip them over. It's as easy as 1-2-3.
The removable nonstick plates are dishwasher safe as well.
The lid can be tilted right back, so you have not only one but two (!) cooking surfaces of around 8″ in diameter each – a fantastic size to make generous crepes, and to fit a few eggs on the other side.
In the front are two indicator lights as well as two knobs. You can preset the temperature to crepe/pizzelle or set it to low, medium and high.
The same applies to the timer with preset times or the ones you choose according to your recipe. The green light plus an audible alert indicates when the unit is preheated, and the crepe is cooked.
Here Are The Pros Of The Cuisinart International Chef
It is the most versatile appliance with reversible cooking plates.
Plates are removable and dishwasher safe.
No need to spread the batter or flip the crepe due to the dual cooking plates and tight locking lid.
Powerful 1000 Watt.
Two indicator lights, audible alert, and timer – get on with other important things around the household.
Stylish design with stainless steel housing.
The Cuisinart can be stored upright.
A measuring cup, tongs, and a wooden mini waffle cone are included.
Great value for money.
What Are The Cons
The Cuisinart International Chef is quite heavy at nearly 10 pounds.
It might be a bit bulky for a small countertop space.
Final Verdict
The Cuisinart International Chef is the most versatile kitchen appliance when it comes to making crepes, pancakes, and pizzelle.
It is easy to use, sturdy, and simple to clean with the removable nonstick plates. What is not to like about this stylish looking crepe maker?
---
Best Electric Crepe Maker Reviews 2023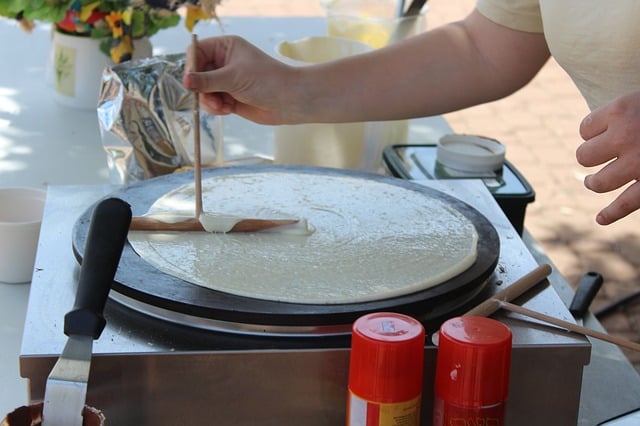 Electric crepe makers that can be used as griddles also are very popular with customers due to their versatility. Electric crepe maker griddles are very compact, and most have at least a powerful 1000 Watt heating element.
That means they heat up quickly and bake a crepe it just a couple of minutes.
Most electric crepe makers have similar features like two indicator lights, non-stick cooking plates, are easy to clean, and have a compact design.
Most of the cooking surfaces feature an aluminum coating which is fantastic news for health-conscious customers who don't like Teflon.
This post might interest you: Top Waffle Makers Without Teflon
Making crepes on an electric crepe maker is a bit of a learning curve since you need to spread out the batter thinly and you'll also need to flip the crepe with the help of a spatula.
But it is so much fun mastering a new skill, and really, it doesn't take long to learn to make delicious thin crepes.
---
NutriChef Electric Crepe Maker Griddle 12″
The NutriChef electric crepe maker is a compact appliance that comes with a generous 12″ cooking surface.
Powered by a 1200Watt heating element you'll be able to make crepes in just a couple of minutes.
Thanks to the rim around the edges, no batter can drip down the side which keeps the exterior clean and tidy.
For your convenience, there is a temperature knob to control the heat and two indicator lights – one for the power and the green one to indicate when the cooking plate is finished preheating.
The non-stick aluminum hot plate keeps the promise to be nonstick.
A batter spreader and a wooden spatula come with this crepe maker and help you to be a professional in making crepes in no time. Promise!
Besides making crepes, you can also make delicious pancakes, fry bacon, and eggs, or tortillas on the NutriChef electric crepe maker.
---
NutriChef Electric Griddle & Crepe Maker | Nonstick 11.8 Inch
 If you are looking for an even more versatile kitchen appliance than the NutriChef electric griddle and crepe maker might be just what you are looking for.
The NutriChef crepe maker has a removable crepe maker plate and also,  it comes with a grill griddle and a plate for making mini pancakes.
The temperature ranges from as low as 212ºF up to 482ºF and can be set by a temperature knob.
The cooking plates have a nonstick aluminum coating, and the cooking surface is 11″ in diameter.
This crepe maker comes with a batter spreader and spatula.
---
Morning Star – Crepe Maker Pro – 13 Inch Crepe Maker & Electric Griddle
The Morning Start crepe maker pro offers a generous cooking surface of 13 inches in diameter. The raised edge makes this crepe maker also ideal for cooking pancakes, eggs, omelets, and other 
delicious breakfast items.
We do love the stylish and compact design with the stainless steel handles and brushed metal appearance.
Rubber feet on the bottom make sure that the appliance doesn't move and scratches the surface of your countertop.
Other features include red and green indicator lights, the cord wraps around the bottom for easier storage, and a temperature knob.
The temperature ranges from 250ºF up to 475ºF maximum. The nonstick plate has an aluminum coating.
Please note that the Morning Star crepe maker is a bit pricier than similar crepe makers.
---
VonShef Professional Electric 12 Inch Crepe Pan and Pancake Maker Griddle
 The VonShef electric crepe maker is very similar in features compared to the other electric crepe makers.
It comes with a variable temperature dial, a non-stick aluminum cooking plate, and two indicator lights.
As a bonus, you'll also get a batter spreader, oil brush, wooden spatula, as well as a ladle with this crepe maker.
The rubber feet keep the appliance on the countertop without moving around. Thanks to the raised edge nothing drips and you can make other things like eggs, bacon, or pancakes with ease.
A 12-month warranty is a nice bonus as well.
---
2. Electric (Cordless) Crepe Maker Reviews
We decided to review the cordless electric crepe maker in a new section because the features and the way they work are very different from the non-cordless electric crepe maker.
So what is the difference?
The biggest difference is how you make the crepes with it. Instead of using a batter spreader to achieve thin crepes, all you have to do is dip the appliance with the cooking plate facing down, into the dipping pan filled with batter.
Just dip the plate for a couple of seconds into the batter, take it out and place the crepe maker back onto the electric base. Let the crepe bake until the edges come off as a sign that the crepe is cooked.
You don't need to flip the crepe; just place the crepe onto a serving platter or stack them up. We prefer to cook them on both sides but you don't need to.
Who will benefit from a cordless crepe maker?
A cordless crepe maker is great for people who find it difficult to spread out the batter thin enough to get a delicate crepe or find it hard to flip the crepe.
The features are also very basic. There is only an on/off switch and maybe a ready light. These appliances are lightweight with a weight of around three pounds.
---
CucinaPro Cordless Crepe Maker Review
The nonstick cooking plate is 7.5 inches in diameter which makes baking the crepes a breeze.
There are an on/off switch and an electric base with a cord wrap.
So all you need to is get the crepe batter ready and switch on the power button.
Once the cooking plate is preheated, take the crepe maker off the base and dip it into the dripping pan provided. Leave it in there for a couple of seconds and put the crepe maker back on the base.
Now, wait for a minute or two until the crepe is cooked. Once the crepe is cooked, it should just slide off the cooking plate. All done!
A spreader and dripping pan come with your purchase.
The CucuinaPro cordless crepe maker is one of the most popular crepe makers on Amazon, even though some customers said, the crepe maker feels a bit cheap because of the plastic exterior.
---
Silverline Electric Crepe Maker with BONUS Silicone Basting Brush
The features of this cordless electric crepe maker are very similar to the CucinaPro crepe maker.
It is a solid and functional product with powerful 1000 Watt and electric thermostat. The black exterior might be more suitable for some kitchen designs than the white color of the CucinaPro.
As a bonus, you'll get a wooden spatula, dipping dish, and a silicone basting brush.
The appliance is extra lightweight with 2.5 pounds, easy to use and clean.
Happy crepe making, everyone!
---
3. Best Crepe Pan Reviews 2023
Last but not least, we are reviewing crepe pans because sometimes it is just so much easier to grab a pan than having to drag out the electric crepe maker.
Crepe pans are easy to use and great if you have only little counter and storage space in your kitchen.
Tip: To make thin crepes in a pan, you don't need a batter spreader as you would with the electric crepe maker. Simply pour the batter into the pan and swirl the batter around by tilting the pan to create a thin layer. That's it!
Everyone has most likely one favorite pan in the kitchen and we are sure that our three picks will quickly become one of your favorite go-to pans; not only for making crepes but also for making the perfect omelet, pancake, blintzes, and more delicious goodies.
Our top picks of the best crepe pans are listed in no particular order.
---
Nordic Ware Traditional French Steel Crepe Pan, 10-Inch

We do like Nordic Wares products because there are not only produced in the United States but are also high-quality.
The Nordic Ware traditional french steel crepe pan is no exception with its aluminized steel construction and a generous 10 inches cooking area.
By the way, only the handle is made in China which is great.
With a weight just under 2 pounds, the pan is not too heavy and thanks to the nonstick finish, the crepe will just glide onto the plate.
The pan is handwash only and comes with a 10-year warranty. It is also suitable for induction cooking.
---
Cuisinart Chef's Classic Nonstick Hard-Anodized 10-Inch Crepe Pan
The Cuisinart crepe pan offers a generous 10 inches cooking area along with a patented nonstick cooking surface called Quantanium.
The stainless steel riveted handle stays cool to the touch.
Overall, the Cuisinart crepe pan is not too heavy and offers good heat distribution.
Please note, that the pan is not induction ready and handwash only. It is easy to clean with a damp cloth or paper towel.
---
 
Mauviel M'steel Crepe Pan, 8.75 Inch
The Mauviel M'steel crepe pan is a beautiful stylish pan designed and produced in France from carbon steel.
Just like a cast iron pan, it needs to be seasoned before you can use it. But before you season it, you'll need to remove the protective beeswax layer first.
The crepe pan is suitable for all cooking surfaces and comes with a lifetime guarantee.
Only wash it with hot water and dry thoroughly to prevent it from rust.
This crepe pan is a high-quality product that will soon become your favorite pan.
Here is a video that shows how to remove the beeswax and how to season the pan.
---
How To Make The Best Crepes
Making crepes is actually very easy. All you need is a simple recipe, a good blender, and either a crepe pan or electric crepe maker.
Here is our recipe:
four eggs
1 cup all-purpose flour
1 1/2 cups milk
1/4 teaspoon salt
1 Tablespoon sugar (omit if you make savory crepes)
3 Tablespoon of butter
Pour the ingredients into a blender and mix until the batter is nice and smooth.
Click Here To See Our Favorite Blender On Amazon
Now for the most important part; the batter needs to rest for at least half an hour or even longer.

Extra tip: prepare the crepe batter in the evening, so you are all good to go to make crepes for breakfast.
Did we mention that our favorite filling is Nutella? Anyway, it is really fun to get creative and to try different fillings.
Bon Appetit!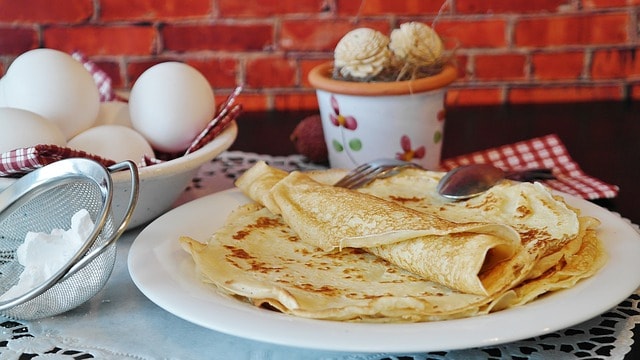 ---
Summary Best Crepes Makers 2023
We do hope, you have found our buying guide for the best crepe makers helpful.
Overall, our top picks of electric crepe makers and crepe pans are inexpensive, easy to use and are high-quality kitchen appliances.
Please share this post with friends, family, and anyone who wants to become a pro at making crepes.
---
bestwafflemakersandmore.com is a participant in the Amazon Services LLC Associates Program, an affiliate advertising program designed to provide a means for sites to earn advertising fees by advertising and linking to Amazon properties including, but not limited to, Amazon.com.