Well, we are big fans of kitchen appliances and to be honest, we have to be careful not to overload our kitchen cupboards. 🙂
This compilation of the best small kitchen appliances in 2023 will give you loads of ideas of what you may need in your busy kitchen.
Some of our top choices of kitchen appliances are practical and useful and some, well, they will make you smile and put a quirky touch to the 'heart of your home.'
Most of these kitchen appliances we have been using for a long time and find them necessary for most households, especially for families with children.
Others are on our top wishlist for Christmas, birthdays, Father's day or Mother's day.
Best of all, all of our picked items cost less than $50 which makes them so affordable.
By the way, our choices of the best small kitchen appliances will make great presents for any occasion; at least definitely for the passionate home cook or baker.
* Please note: all product links in this product review are affiliate links. That means, as an Amazon Associate I earn from qualifying purchases.
---
Our List Of The Best Small Kitchen Appliances In 2023
#1 George Foreman 5-Serving Removable Plate Grill and Panini Press 
The George Foreman appliances are one of the most popular appliances on Amazon. This grill and panini press would make an excellent addition to any kitchen. The removable plates are dishwasher safe and free of nasty chemicals like PTFE and PFOA.
We love having paninis for a quick lunch or afternoon snack. It is a healthy way to feed the family.
The George Foreman signature Fat-Removing Slope makes grilling even better.
It removes fat and grease so you can enjoy more of what you love.
If you would like to get an even more versatile George Foreman appliance, please read our review of the George Foreman Grill And Waffle Maker, Evolve.
---
# 2 Hamilton Beach Flip Belgian Waffle Maker with Removable Plates 
Speaking of waffle makers, and of course as founders of this website, we believe every household should have at least one waffle maker.
Not only is a waffle maker an essential appliance for a quick and delicious breakfast. It makes desserts in a flash, and besides sweet waffles, you can make savory waffles, hash browns or egg style dishes with a waffle iron. (Find some inspirational recipe ideas here)
The Hamilton Beach waffle maker with removable plates is our number one choice for its quality. With the removable plates it is easy to clean, and due to the flip option, it bakes the waffles evenly.
For more waffle maker options, please read our buying guide here.
---
# 3 Chef's Choice 834 Pizzelle Pro Express Bake
If you grew up in a family with an Italian heritage, then you most likely have indulged in these anise-flavored thin, crispy cookies that are made to celebrate festive occasions like Christmas and Easter.
Pizzelle cookies are such a special treat that thanks to pizzelle makers like the Chef's Choice Pizzelle Pro Express Bake can be enjoyed at any time of the year.
Make these delicious Italian cookies for your family or wrap them up and give them as a gift to friends and neighbors.
For more pizzelle maker choices, please click here.
---
# 4 
Pancake & Cupcake Batter Dispenser

For people who do a lot of baking, this batter dispenser will be an invaluable addition to your kitchen. We all know the annoying spillage when pouring pancake batter into the skillet, waffle batter into the waffle iron, not to mention spooning dough into the muffin tin.
No more spillage with this fantastic product. You can use it for pancakes, waffles, crepes, muffins, cupcakes and so on.
It is safe to use – even your children can have a go on pouring the batter into the pan.
The batter dispenser by KP Kitchen comes with a free recipe ebook and a lifetime warranty.
---
#5 
OXA Powerful 4-in-1 Hand Blender
An immersion blender is one of the most useful and practical small kitchen appliances, every kitchen guy, and gal should have in their cupboards.
The Oxa 4-in-1 blender is even more versatile with the egg whisker, the 500 ml food processor attachment and blending beaker.
Whisk up egg whites for meringue, purree pumpkin soup or make houmous or guacamole in literally seconds.
Best of all, the blender and additional attachments won't take up much space in your kitchen at all.
Cleaning is easy, just pop them in the dishwasher – Done!
---
#6 
Hamilton Beach 40880 Stainless Steel Electric Kettle
An electric water kettle is a must-have in each kitchen household. It heats up the water much faster than in the microwave or on the stovetop.
The Hamilton Beach Stainless Steel water kettle holds 1.7 liters of water and has a drip-free spout.
Now you can enjoy a cup of coffee, tea, hot chocolate or a bowl of instant soup in no time.
The design is sleek and stylish and will look good on any kitchen counter.
---
#7 
Bodum Coffee Maker, Pour Over Coffee Maker with Permanent Filter
Bodum is a well-known company in Europe, especially for its high-quality, stylish tea and coffee makers.
And wow, what a beautiful Scandinavian design this pour-over coffee maker with reusable filter showcases.
Just boil water in your water kettle, add coarse ground coffee to the removable stainless steel filter and pour over the water. It only takes a few minutes for you to enjoy an aromatic cup of coffee.
The Bodum Pour-Over Coffee Maker is available in different colors that will suit any kitchen design.
---
# 8 
Bialetti 6-Cup Stovetop Espresso Maker
 We are sticking with the coffee maker theme here and highly recommend the Bialetti Stovetop Espresso Maker to produce your daily espresso fix.
This espresso maker is a classic, designed and produced in Italy. We are using our stovetop espresso maker every single day. It only takes 5 minutes to make an aromatic espresso.
Related Posts: Top Drip Coffee Maker Reviews – For A Great Start In The Morning
Best Single Serve Coffee Maker Reviews
The Bialetti Espresso Maker is available in different sizes from 1-cup, 3-cups, 6-cups, 9 and 12-cups. Besides the classic silver color, you can choose from eight more colors.
Bialetti also offers a two-year warranty on their product.
---
# 9 
Aicok Automatic Ice Cream Maker, Frozen Yoghurt and Sorbet Maker Machine
Who doesn't love ice cream or a fruity, delicious, dairy-free 
sorbet? The Aicok Ice Cream Maker lets you create your unique flavored dessert. Let your and your children's imagination run wild and make the best tasting ice cream ever.
Just pop the fast-freezing bowl needs to go for 12 hours into the freezer before making the ice cream, so there is a bit of planning involved.
The extra big spout lets you add ingredients at any time during the ice cream making process. Your homemade dessert is ready in around 20 minutes.
Find More Ice Cream Makers Here.
Aicok also includes a recipe book and offers a 2-year replacement warranty.
---
# 10 
Crock-Pot Cook' N Carry 6-Quart Oval Manual Portable Slow Cooker
A slow cooker aka crock-pot is such a useful kitchen appliance everyone should own. I bought my one seven years ago before I had my second child and oh boy, was I glad I did.
I was able to put dinner on when the baby was asleep and didn't have to worry to get dinner ready in time for the family.
Related post: The Best Slow Cookers To Make Easy And Tasty Meals
Owning a crock-pot has been an absolute time saver for my family, and I. Not only tastes the food amazing; it is so comforting to come home after a long day at work and smell the delicious flavor of a hearty beef stew or aromatic chicken soup.
And how about a self-saucing chocolate pudding? Yum!
The Crock-Pot Cook'n Carry is made with a stainless steel exterior and a removable stoneware-insert. The functions are basic; choose from low, high, and warm. That is all you need.
Our favorite feature is the locking lid so you can safely carry the crock-pot to the next potluck dinner.
---
# 11 
Instant Pot Duo Mini 3 Qt 7-in-1 Multi- Use Programmable Pressure Cooker, Slow Cooker, Rice Cooker, Steamer, Sauté, Yogurt Maker and Warmer
This Instant Pot Duo is one of the most versatile kitchen appliances on the market and with over 30000(!) sold items probably one of the most sold products on Amazon.
It is a slow cooker, rice cooker, steamer, yogurt maker and pressure cooker all in one unit.
The Instant Pot Duo costs more than $50, but it is worth the investment if you need a multi-tasker in your kitchen household.
Find more pressure cookers in my detailed review post.
The cooking bowl is stainless steel which is free of chemicals and dishwasher safe. The Instant Pot Duo is available in 3 Quart, 6 Quart, and 8 Quart, and comes with a variety of accessories including a rice measuring cup, a stainless steel steamer rack, and a recipe booklet.
---
# 12
Hamilton Beach Dual Breakfast Sandwich Maker
Make two tasty sandwiches for your breakfast with this awesome sandwich maker from Hamilton Beach. No need to visit your favorite fast food chain anymore.
Create your delicious snack with ingredients you love including cheese, eggs, peppers or whatever else you fancy.
The Hamilton Beach Dula Breakfast Sandwich Maker features two indicator lights, a timer, and removable dishwasher safe cooking plates.
It is safe to use so even your children can make their breakfast in minutes. But who says it is only for breakfast? How about a healthy sandwich for lunch or afternoon snack.
---
# 13
Dash Rapid Egg Cooker, Black
The Dash Rapid Egg Cooker is one of those appliances that you can set and forget. Just put water and six eggs in, turn it on, and an audible alert will tell you when the eggs are cooked.
This egg cooker comes in four colors and takes up only a tiny space of your kitchen counter.
In addition to perfectly cooked boiled eggs, you can also make poached or scrambled eggs with this nifty little kitchen helper. It comes with a one-year warranty.
---
# 14
Hamilton Beach Quesadilla Maker
Quesadillas is one of our family favorites for a quick and nourishing weeknight dinner. Simply pop the tortilla into the Hamilton Beach Quesadilla Maker, add your preferred ingredients like beef and cheese, top with another tortilla and close the lid.
Within five minutes, dinner is served.  Serve with spicy salsa and some salad on the side and your family will love you.
The Hamilton Beach Quesadilla Maker features an easy to clean nonstick surface and two indicator lights.
This quesadilla maker has a lockable lid so you can store it upright in your kitchen cupboard.
---
# 15
Crock-Pot 24-Ounce Lunch Crock Food Warmer
The Crock-Pot Lunch Crock Food Warmer is an excellent 
gadget for people who love to take their leftover dinner to work and don't want to reheat it in the microwave that gets used by many other coworkers.
Simply fill the stainless steel food bowl with your dinner from last night or even frozen food, pop the lid on and take it to work.
Plug it in, and lunch is ready in within an hour. The crock-pot is lightweight, looks stylish and is easy to clean.
You can also warm up dips for the next dinner party. Highly recommended!
---
# 16
Hamilton Beach Smooth Touch Can Opener
Imagine that, according to a study the American household uses on average 600 steel cans per year. That is a lot of cans that need to be opened.
The electric Smooth Touch Can Opener from Hamilton Beach does a fantastic job and opens your cans in seconds without leaving a sharp edge.
It is suitable for pop-up and regular cans. The design is stylish and will look good on any kitchen counter.
This can opener comes with a one-year warranty.
---
# 17
Keyton K-1BLENDER 21 oz Personal Blender with Travel Lid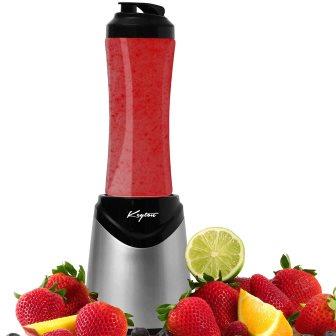 The Keyton Single Serve Blender is perfect for health-conscious people on the go. You don't need to spend lots of money for a blender to make smoothies from frozen fruit or your daily protein shake.
The Keyton blender features a BPA free bottle that comes with a convenient sports lid. Take your smoothie to the gym, office or school without worrying about any spilling or leakage.
The blender is easy to operate with one touch. When you finished, simply wash the bottle and blade in the dishwasher.
---
# 18
Holstein Housewares Fun Cupcake Maker
The Holstein Cupcake Maker is such a fun kitchen appliance. You can make 6 delicious cupcakes in seven minutes.
Get the children involved and enjoy an afternoon of baking, decorating and having fun with your family.
The Holstein cupcake maker is small and comes with two indicator lights. The lid has a lock for easy upright storage.
The non-slip base keeps the maker safe on the kitchen counter.
So get your baking ingredients together, and make the best cupcakes ever.
---
Summing Up Best Small Kitchen Appliances 2023
We had so much fun putting together this nifty little guide of the best small kitchen appliance for 2023. It is hard to pick our favorite kitchen appliances.
Most of them cost less than $50 and would also make perfect holiday or birthday gifts.
The most practical one we have used the most in all these years is probably the slow cooker. The taste of a stew or hearty soup slow-cooked in five hours or longer is hard to beat.
Please share with us what your favorite kitchen appliance is and why. We'd love to hear from you.
---
bestwafflemakersandmore.com is a participant in the Amazon Services LLC Associates Program, an affiliate advertising program designed to provide a means for sites to earn advertising fees by advertising and linking to Amazon properties including, but not limited to, Amazon.com. Amazon offers a small commission on products sold through their affiliate links.