Welcome to my recipe post about how to make a delicious sourdough pizza that is full of flavor. And I promise you, it is really easy to make.
I have to confess, I'm kind of a bit obsessed with sourdough and the use of a sourdough starter.
Read my post on making delicious pancakes with sourdough starter, for example. Other recipes are still to come like my no-knead sourdough bread, focaccia bread with sourdough, and a few more I still have to write up.
Even though it takes longer for the dough to rise compared to a yeast-based pizza dough, it is worth the wait.
The sourdough pizza dough is more flavorsome, and it is easier to work with. You can see it here in my step-by-step cooking tutorial.
---
How To Make An Easy And So Delicious Sourdough Pizza
My Sourdough Starter
It goes without saying that a good sourdough starter plays the main role in our recipe. My starter hibernates in the fridge. To bring it back to life, I usually take it out a day before I am planning on using it.
I give it some flour and water, and let the jar sit in a warm place.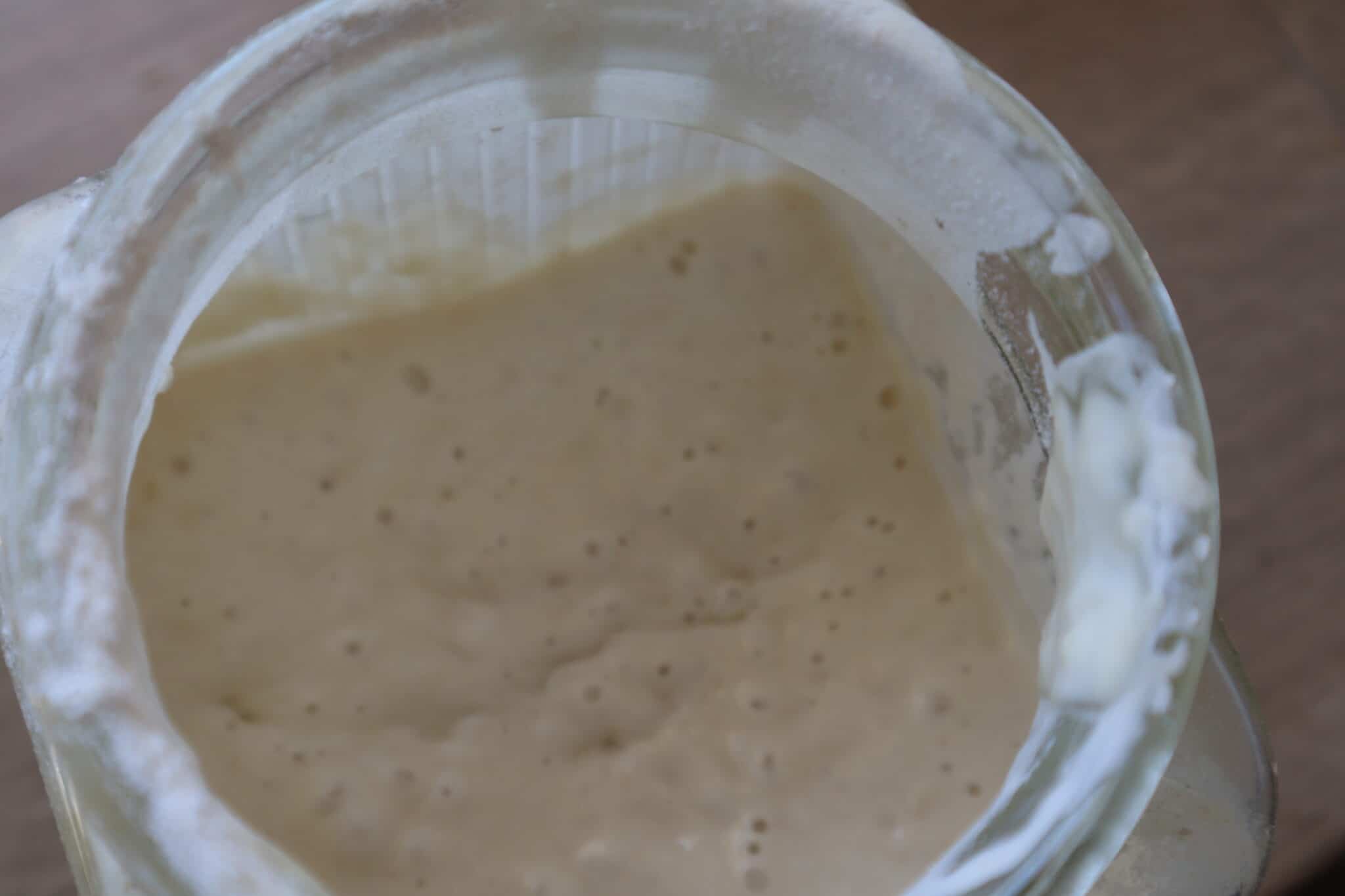 You can see the bubbles on the surface of our starter. That means the sourdough starter is ready to be used, it is active so to speak.
---
My Sourdough Pizza Toppings
For this delicious and easy-to-make sourdough pizza, I am using my favorite vegetables. Think red, yellow, green capsicum/bell peppers, and sliced red onion.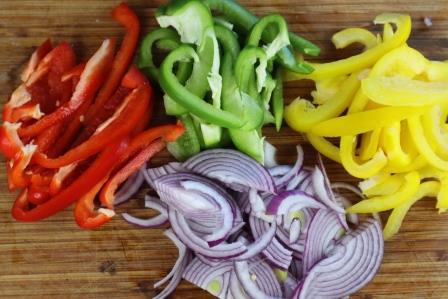 For the tomato sauce base, I am using storebought pasta sauce. Well, I am a busy mum of three, so sometimes I have to cut corners. But seriously, the pasta sauce tastes pretty good.
The choice of grated cheese is also up to you, whether you like mozzarella, cheddar, or Colby cheese on your pizza pie.
That is the beautiful thing about pizza, anything goes…
Back to our vegetables. I do like to saute them in olive oil before using them on my pizza; just to soften them a little bit. I season them with salt, pepper, and chili flakes.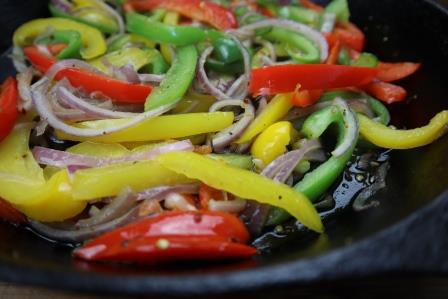 To top it off, I use a special ingredient as a topping that makes the pizza even more special. If you want to find out what it is, you have to watch my cooking video.
I would love to know what you think of it. Would you try it, or have you tried it before?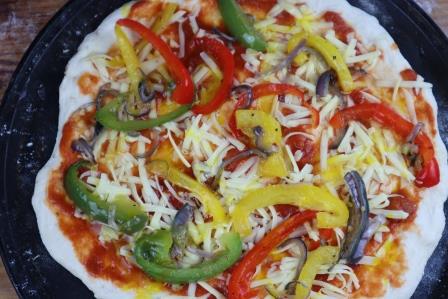 But now, let's find out how to make the pizza dough with a sourdough starter.
---
The Sourdough Pizza Recipe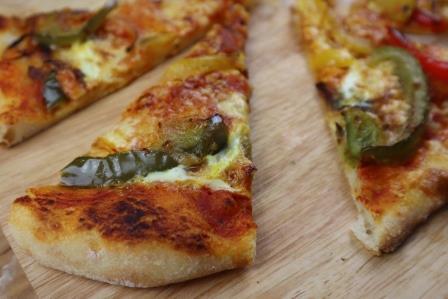 Easy Sourdough Pizza
If it was up to my kids, every day would be pizza day. Our scrumptious sourdough pizza is full of flavor and yet still healthy.
Equipment
A large bowl

A smaller bowl for the flour

A Pizza pan
Ingredients
The Pizza Dough
1

cup

sourdough starter

2

cups

lukewarm water

1/4

cup

extra virgin olive oil

5

cups

high-grade flour

plus some extra flour for dusting the workbench

3

tsp

salt

I always use pink Himalayan salt
Pizza Toppings
1

red

capsicum

1

yellow

capsicum

1

green

capsicum

1

red onion, sliced

salt, pepper, and chili flakes to taste

olive oil for sauteeing the vegetables
Extras
2

cups

grated cheese of your choice

storebought pasta sauce of your choice

our 'secret' ingredient
Instructions
How to Make The Dough
Pour water and olive oil into a large bowl.

Add the sourdough starter and mix together.

In a separate bowl mix the flour and salt together.

Add the flour/salt mixture to the large bowl.

With your hand, mix the all the ingredients together until it comes together as a sticky ball

Tip: Wet your hands to work with the sticky dough.

Dust the dough with flour and cover with glad wrap and a tea towel.

Put the bowl in a warm place.

Every hour or so, stretch and fold the dough, remember to have a small bowl with water nearby to wet your hands.

Once the dough has doubled in size (after around 5 hours), tip it onto a dusted workbench.

Cut the dough into 5 equal parts if you make individual pizzas or two big pieces if you bake them on a baking sheet.

Roll into balls, cover with a tea towel and let them rest for another 20 minutes.

Dust your pizza pan with some flour and stretch the dough out to the required size.

Now add your favorite toppings.

Bake in a preheated oven at 220 Degrees Celcius for around 15 minutes.
Toppings
Cut the onion and capsicum into slices.

Heat up the olive oil and saute the capsicum for 5 minutes.

Season with salt, pepper, and chili flakes.

Add the onion and saute for another 2 minutes.

It is now ready to go on the pizza.
Video