The best thing about making waffles is that there is such a huge variety of different recipes. Theoretically, you could have a different tasting waffle every day.
I have been searching the Internet and have found the most delicious recipes for any occasion and taste bud.
From savory to sweet, buttermilk or gluten free, Belgian waffles or the good old Classic one. Get inspired by these recipes, put the apron on, preheat the waffle iron and cook up a storm.
If you like the sound of cinnamon swirl waffles, the traditional Liege waffle or cornbread waffles with chili, please read on.
---
1 Sweet And Decadent
1.1 True Belgian Waffles
Most people love Belgian waffles because of the deep pockets that hold lots of butter, cream, and syrup.  There are many different recipes around, but this one was given by a Belgian family.
It was taste tested by the Belgian grandmother in the States. She was so happy with the result because it 'tasted like home.'
Be sure to try the recipe for yourself.
You'll also need a waffle iron that makes the perfect Belgian waffle every time. For our top recommendations, read our reviews here.
---
1.2 Liege Waffles
Liege waffles are the waffles of all waffles. Because they are made with yeast,  it will take some time to let the dough rise.
If you want Liege waffles for breakfast prepare the dough the evening before.
The secret ingredient is pearl sugar that caramelizes on the surface and gives the waffle and incredibly crunchy and satisfying texture.
By the way, you can get Pearl sugar over on Amazon.
Anyhow, be sure to check out the recipe on ButterBaking.com.
Traditionally, Liege waffles have a square shape. Our best recommendation for the best waffle maker would be the Breville Smart waffle maker. Please read the review here.
---
1.3 Southern Strawberry Pecan Waffles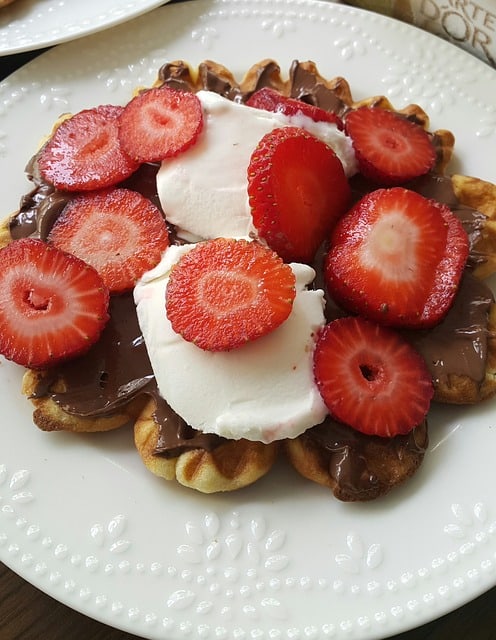 These decadent waffles are egg-free, dairy-free and suitable for vegans. Your family will be in for a special treat. I mean, what is not to love about Pecan and Strawberries? Sounds like a match made in heaven.
You'll find the recipe over at Veganocity.
---
1.4 Delicious Buttermilk Waffles
Buttermilk makes everything so much tastier in my opinion. In this case, it helps to make the waffles crunchy on the outside and fluffy on the inside.
Top it with soft salted butter that will melt as soon as it hits the surface and add some maple syrup. Can it get better than this?
Here is the link to the printable recipe.
---
1.5 Cinnamon Roll Waffles With Cream Cheese Icing
How does cream cheese, cottage cheese and a swirl of cinnamon sound to you? I think it sounds gorgeous.
This recipe is quick to put together and is very filling. I think it is a great twist on the usual waffle batter.
Click here for the printable recipe.
---
2 Savory Waffle Recipes
2.1 Cornbread Waffle With Chili
This is the perfect dish for these cold Autumn and Winter evenings and a meal that you can whip up in a flash.
We usually have corn chips or tortillas with our chili, so this is a new combination we'll have to try out. I am sure it will be a winner in our household.
Served with some sour cream and grated cheddar cheese – just yum!
Here is the recipe just for you.
---
2.2 Egg & Cheese Hash Brown Waffles
Wow, that is the perfect dish for a hearty Sunday breakfast or lunch. The best part is that it doesn't take long to cook, depending on your waffle iron.
You'll find the recipe over at YellowBlissRoad.
---
2.3 Bacon Cheddar Green Onions Waffles With Fried Chicken
Ok, this recipe takes a bit more time and effort. But if you want, you don't need to make the chicken and it the savory waffles on its own.
Love this recipe and will try it out for sure. Photos will be added once it's done. Promise!
Meanwhile, get the inspiration and recipe at The CandidAppetite.com.
---
Wrapping It Up
There you have it, simple yet delicious, mouthwatering recipes all made with a waffle iron, some creativity, love, and passion.
The best part is that these recipes are easy to make. Your family will love you for it.
Please share this post on your favorite social media platform.