Today, I am going to share an authentic German Apple cake recipe with you that is made with a delicious buttery streusel topic. Trust me, once you have tried it, you will be making it all the time.
This recipe has been used by my late grandmother, my mother, and now by me. Much to the delight of my family and friends.
This authentic German apple cake is big enough to feed a family of five for afternoon tea or dessert served with a generous amount of whipped cream and maybe even some ice cream.
Best of all, there will be still leftovers for the next day's lunches, or you could put some cake into the freezer. But the latter is more unlikely because simply, the cake will be gobbled up in no time.
It is so good, that my daughter want it as her birthday cake for her next birthday party.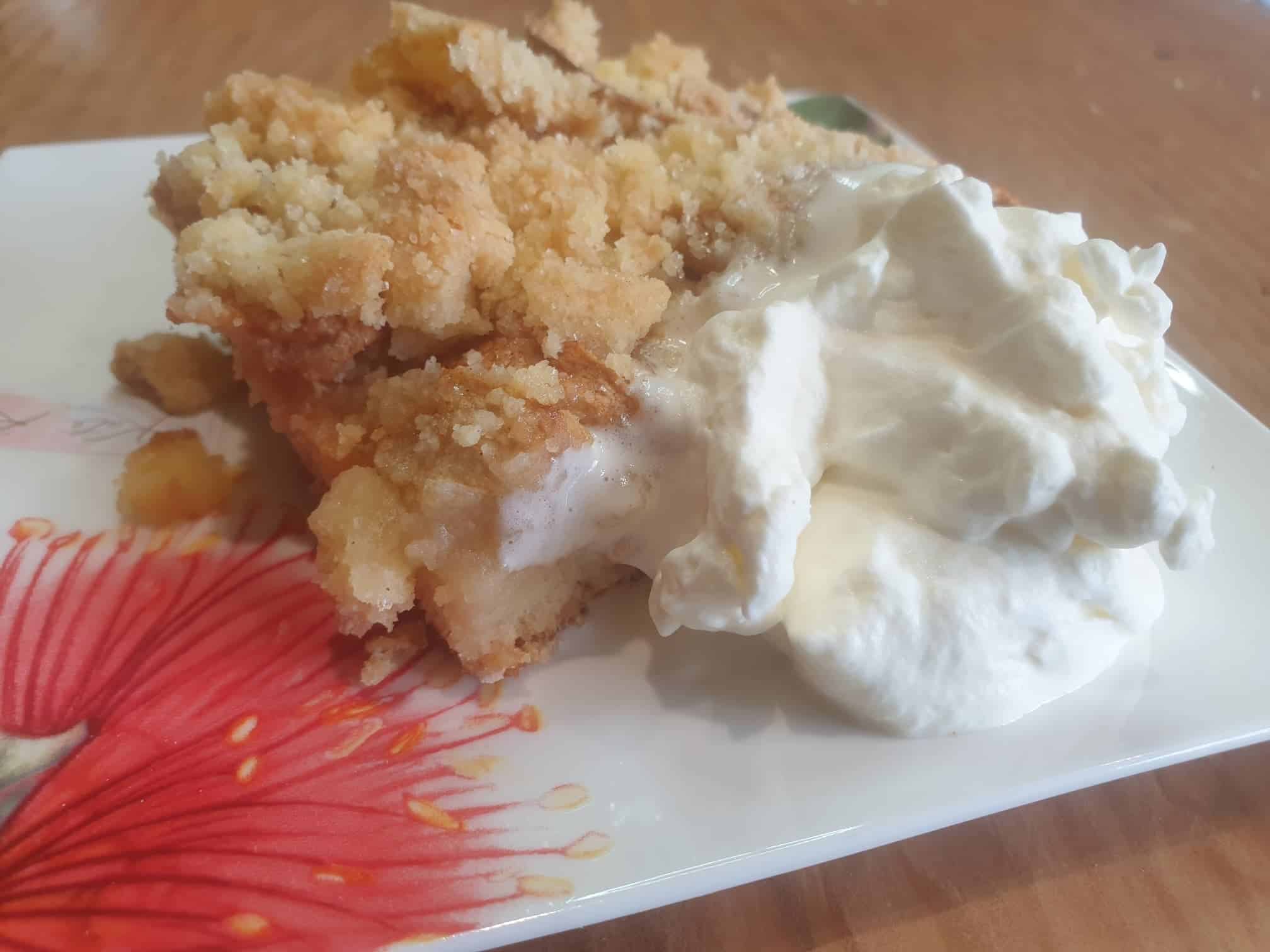 ---
Extra Tips Before You Get Started
The combination of the yeast dough, topped with juicy sliced apples, plus the taste of the golden brown streusel on top is just amazing.
A word of caution: Because we are using a yeast dough, it will take some time to prepare, mainly waiting time for the dough to rise.
Related post: The Most Delicious Waffles – Classic Waffle Recipe
In saying that, you can prepare the dough a day in advance and leave it in the fridge overnight.
The same applies to the apples and streusel topping. Both can be prepared prior, and left in the fridge until you are ready to use it.
Instead of apples, you can also use plums, or gooseberry. It is equally delicious.
---
Authentic German Apple Cake With Streusel Topping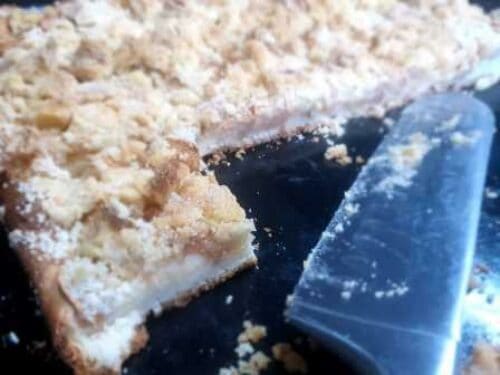 Authentic German Apple Cake With Streusel Topping
Impress your family with this authentic German apple cake and a scrumptious buttery streusel topping. Serve with whipped cream (and if you fancy) with ice cream and you will want to go back for more. That's how delicious it is.
Equipment
1 large bowl for the dough

1 medium bowl for the streusel topping

1 medium bowl for the apple slices

1 large baking sheet pan (around 17" x 13")
Ingredients
For the dough
500

grams

all purpose flour

100

grams

granulated sugar

250

ml

milk

1

tsp

dry yeast

100

grams

butter
Apples/ Streusel Topping
8

large apples, cut into slices

e.g. Granny Smith

200

grams

all-purpose flour

100

grams

soft butter

100

grams

granulated sugar
Extra Topping
100

grams

granulated sugar mixed with cinnamon

100

grams

melted (slightly burned) butter
Instructions
The dough
in a small saucepan warm up the milk, add the butter, and sugar and stir until the sugar has almost dissolved and the butter has melted

let the mixture cool down for a little bit (it should be lukewarm), add the yeast and give it a stir; let sit for 5 minutes

while you are waiting, sieve the flour into a large bowl

now add the butter, milk, sugar, yeast mixture to the flour and mix with your hand until well combined; Note: you can also use an electric stand mixer

knead until it forms a soft ball, around 5 minutes

cover and put into a warm place to proof

once it has doubled in size (1.5 hrs), the dough is ready

grease the baking sheet pan, roll out the dough, and put it in the pan
Apple Topping
while the dough is rising, peel the apples, cut out the core, and cut the apples into thick slices

to prevent the apples from browning drizzle with lemon juice

arrange the apple slices on the dough in the baking sheet pan
Streusel Topping
in a bowl, mix the flour, sugar, and soft butter until they resemble crumbles (streusel)

scatter the crumbles evenly on top of the apple slices until they are almost covered
Baking
preheat the oven to 180 degrees conventional setting

bake for 45 minutes or until the dough and the streusel are golden brown
Extra Topping
once the cake is baked, drizzle with cinnamon sugar and butter. Put it back in the oven for another 5 minutes
Video
Notes
The cake is most delicious when it is still warm. We love it served with whipped cream and (if you fancy) some ice cream.
It is also perfect for putting in the freezer. Once it is cooled down, cut into slices and put into freezer prove bags. When needed unthaw the slices and warm up in the oven or microwave.
It's also ideal for the kid's lunch boxes.
Instead of apples, you can use fresh plums or gooseberries.
Enjoy and don't forget to share the recipe with friends and family.
If you have any questions, leave them in the comments below. I'd love to hear from you.