In this post, I am sharing an absolutely foolproof, no-fail recipe with you that only requires 2 (!) ingredients.
As a result, you will get the most delicious 2 ingredient white bread rolls for your breakfast, lunch, afternoon tea, or dinner.
This white bread roll recipe doesn't need any yeast, instead, you'll need Greek yogurt and self-raising flour.
Related post: Lemonade Scones Recipe- Super Easy And Delicious and Our Easy No-Knead Sourdough Bread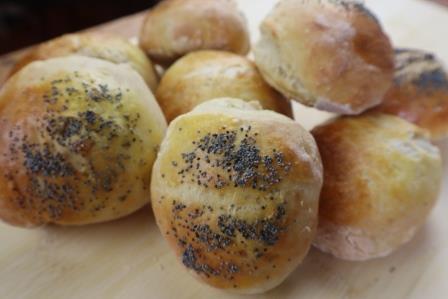 If you don't have self-raising flour, you can easily make your own. You will need all-purpose flour and baking powder and a pinch of salt.
You need to add one teaspoon of baking powder to 1 cup of flour. And, there you have it: self-raising flour.
Related post: Easy Baked Brie Cheese Recipe (With 2 Ingredient Dinner Rolls)
Now for the recipe, all you have to do is mix the flour with the yogurt (I think that Greek yogurt is the best), lightly knead it for about 2 minutes, and let the dough rest for 15 minutes.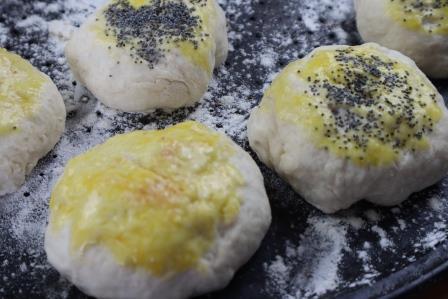 Now, cut the dough into 7 or 8 pieces and roll them into small balls.
To make it a bit fancier, I like to brush the bread rolls with some egg wash and sprinkle on some poppy seeds. I do love the taste of poppy seeds. On top of that, it looks so much prettier.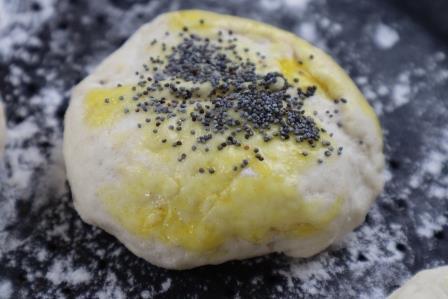 I like to bake my white bread rolls on a pizza tray. Of course, you can also use a baking sheet.
Preheat the oven to 180 Degrees Celcius (fan bake) = 350 Degrees Fahrenheit (convection) and bake for at least 15 minutes.
The result is just amazing – beautiful crispy brown white bread rolls on the outside and soft on the inside.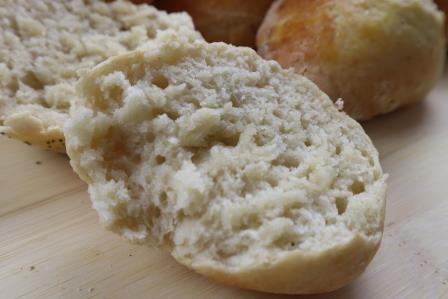 White Bread Rolls Recipe Without Yeast
Without further ado, here is our easy no-fail recipe to make tasty white bread rolls with only 2 ingredients.
Delicious White Bread Rolls Without Yeast
Make these easy white bread rolls from scratch with only 2 ingredients. Delicious with butter and jam, or enjoy as dinner rolls with a hearty soup.
Ingredients
2

cups

self-raising flour

1

cup

Greek yogurt

1

egg (for egg wash – optional)

1

tbsp

poppy seeds – optional

1/4

cup

all-purpose flour for dusting
Instructions
Add the yogurt and flour to a large bowl.

2 cups self-raising flour,

1 cup Greek yogurt

With a wooden spoon, mix it all together.

If the mixture is to dry, add a bit more yogurt.

Using your hands, slightly knead the flour /yogurt mixture until the dough is nice and soft. It is best to do it on the benchtop dusted with flour.

Knead the dough for around 2 to 3 minutes.

Form the dough into a ball, dust with flour, and cover with a tea towel. Leave to rest for around 15 minutes.

Cut the dough into pieces (7 to 8 pieces) and roll them into small balls.

Place them onto a dusted baking sheet or pizza tray.

Mix the egg in a small bowl with some salt. Using a pastry brush, put the egg wash onto the bread rolls. (optional)

1 egg (for egg wash – optional)

Sprinkle with poppy seeds or coarse salt.

1 tbsp poppy seeds – optional

Bake in the hot oven for at least 15 minutes.

Let them cool down for a bit and enjoy warm with butter and jam or savoury toppings of your choice.
Video
Notes
If you are making this recipe with the baked brie cheese, please cut the dough into smaller pieces, so you will get 14 to 16 buns. Omit the poppy seeds also.