My best Feijoa Crumble Cake is a must have dessert recipe. It is so easy to make and ready in no time.
Without a doubt, the Feijoa (aka Pineapple Guava) is one of my favorite fruits and the best way of eating it is either by scooping out the pulp with a spoon or by using it in baking or making ice cream.
I am certain you'll love my deliciously fruity Best Feijoa crumble cake with its buttery crumble topping.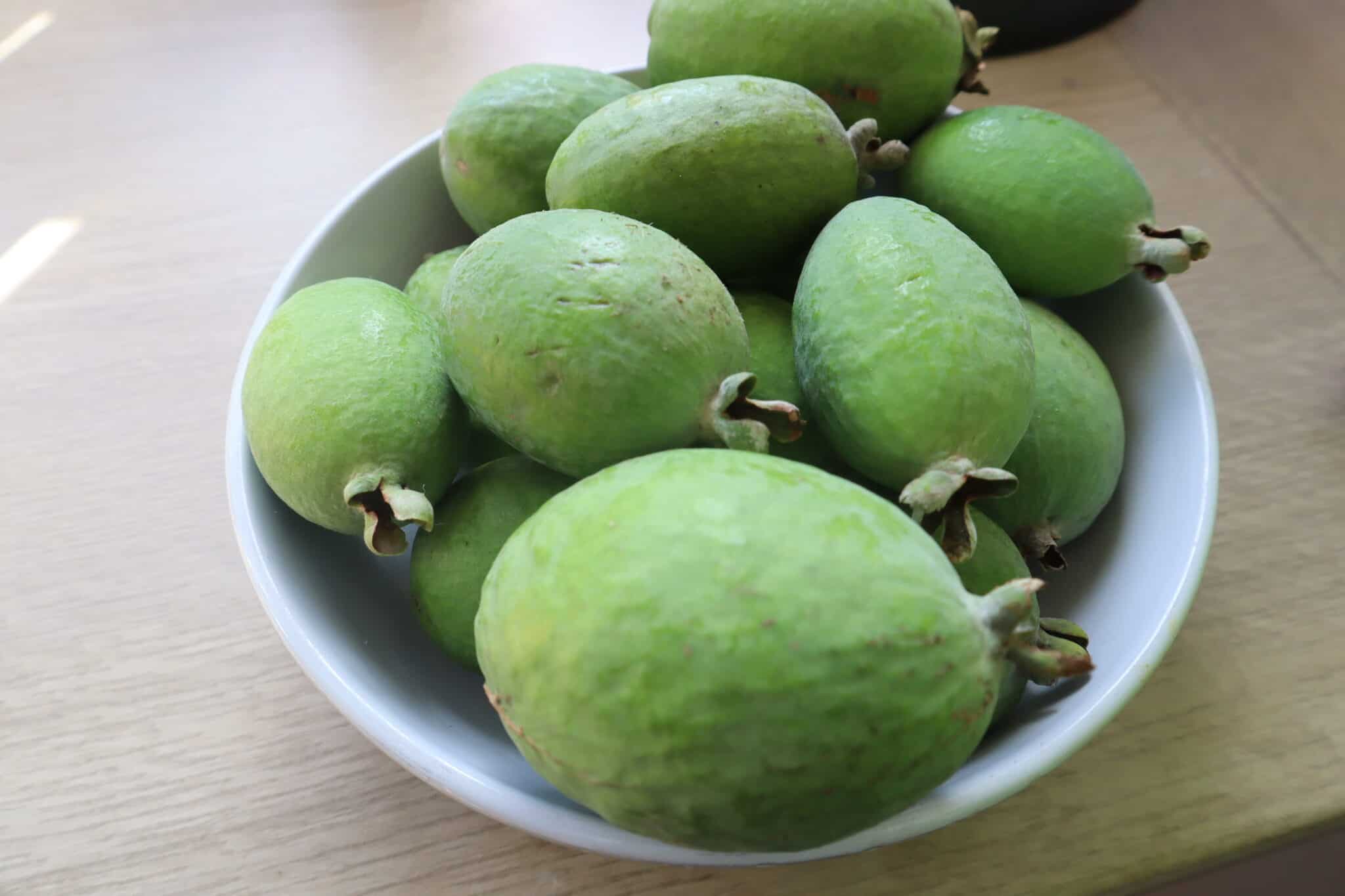 Best of all, the Feijoa crumble cake is ready in only 25 minutes. You could also make a Feijoa crisp, which is even quicker.
Simply use my delicious Apple Crisp recipe and substitute the apples with the feijoas.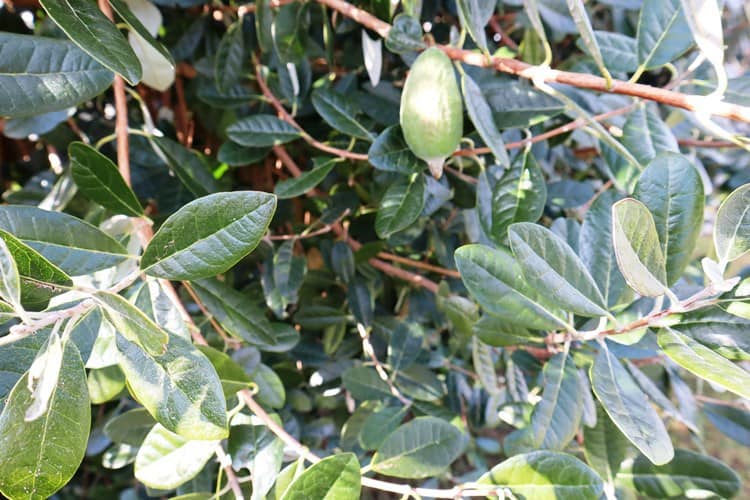 Feijoas are so easy to grow and I think everyone should grow one if they have a garden. The tree is evergreen with gorgeous flowers in spring and an abundance of fruit in autumn.
Once the feijoas fall from the tree they are ready to eat.
Simply cut the fruit in half and scoop out the pulp with a spoon. If you can't use the Feioas straight away, put the pulp into the freezer.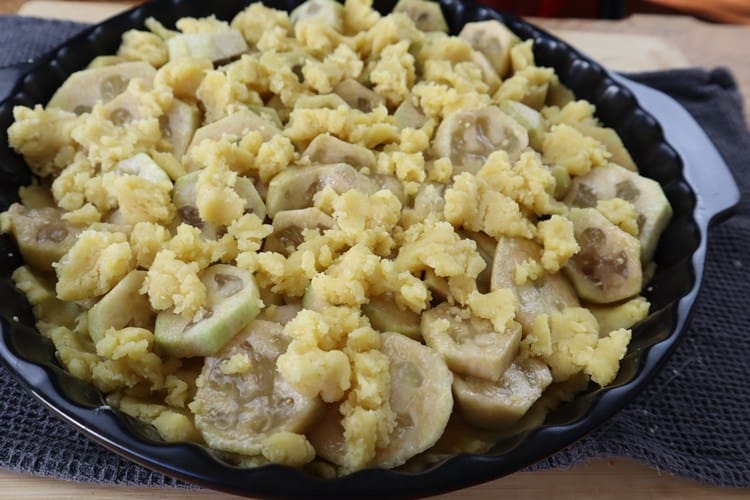 For our gorgeous Feijoa Crumble Cake recipe, you'll need 10 to 12 medium-sized Feijoas. We peel the skin with a sharp knife and cut the fruit into fairly thick slices.
There is no need to put any sugar or lemon juice on them. Once they are cut into slices, set them aside until you are ready to use them.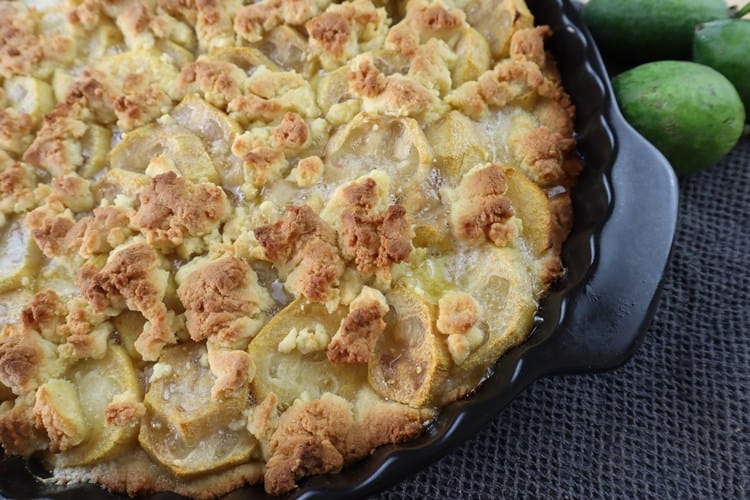 One of our key ingredients for the crumble dough are ground almonds. It makes the crumbles so crispy and the butter adds the most beautiful buttery flavor. Oh, so good.
Use 2/3 of the crumble dough as the cake base. The remaining dough will be our crumble topping.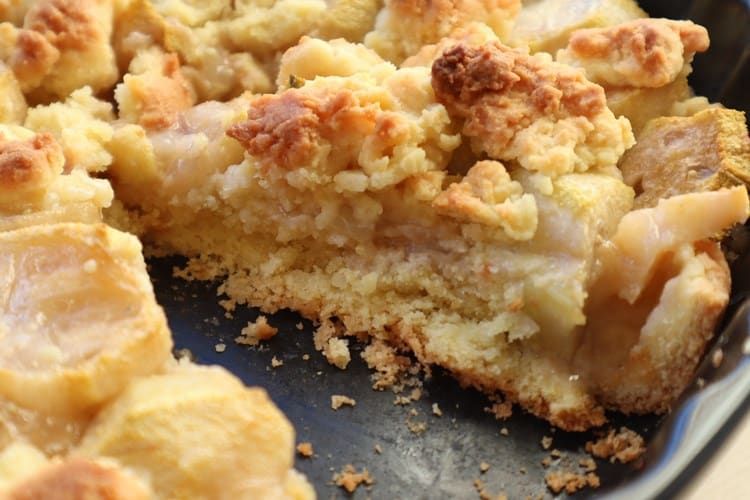 It should only take around 30 minutes to get everything ready.
Once you assembled the feijoa cake, it takes around 25 minutes for the cake to bake.
By the way, you can watch the video here on how to make this mouth watering dessert.
Enjoy the feijoa crumble cake while it is still warm with either custard or vanilla ice cream.
I promise, your family will love this dessert dish and will want to come back for more.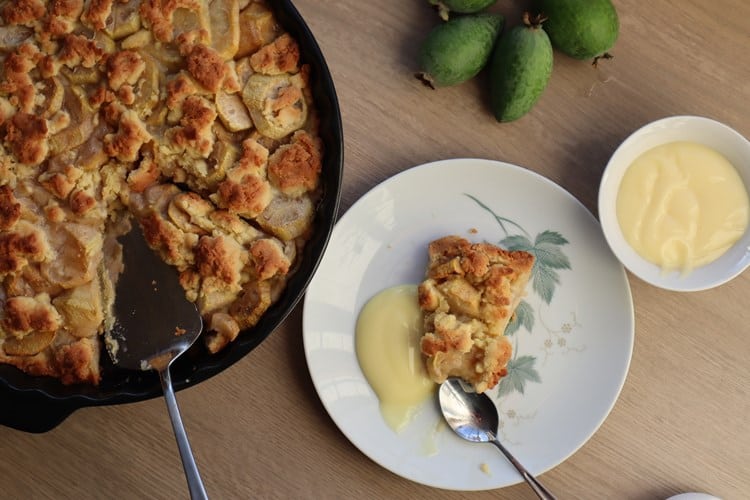 The Best Feijoa (Pineapple Guava) Crumble Cake
Now, let's put your apron on, get those feijoas peeled and cut, and mix together our gorgeous crumble dough.
As promised, with only a few simple ingredients, you'll have a delicious fruity dessert ready in under 30 minutes.
Please note that the recipe card contains affiliate links for the equipment, just in case you need to get a new baking dish or paring knife.
Read my affiliate disclosure for more info.
As usual, you can watch my step-by-step cooking tutorial on Youtube. Please feel free to subscribe to my cooking channel, so you don't miss any of my videos.
I do hope you enjoy the dish. Please leave a comment below to let me know how you liked it. Don't hesitate to ask any questions you may have either.
But now, let's get baking!
The Best Feijoa (Pineapple Guava) Crumble Cake
You have to try this quick and easy dessert with one of my favorite fruits – the Feijoa aka Pineapple Guava. A fruity crumble cake with so much flavor. Paired with custard it is a match made in heaven.
Ingredients
150

grams

melted butter

1/2

cup

sugar

1

tsp

vanilla extract

1

egg

1 3/4

cups

self-raising flour

1

cup

ground almonds

10 to 12

Feijoas/Pineapple Guava
Instructions
Prepare The Feijoas
Peel the feijoas with a sharp knife.

10 to 12 Feijoas/Pineapple Guava

Put the feijoa slices into a bowl and set them aside for later use.
How To Make The Crumble Dough
Melt the butter and put it into a large bowl.

Add the sugar, the egg, and the vanilla extract and whisk thouroughly.

1/2 cup sugar,

1 tsp vanilla extract,

1 egg

Add 1 cup of the flour as well as the ground almonds. Mix together with a wooden spoon.

1 3/4 cups self-raising flour,

1 cup ground almonds

Gradually add the last flour. Use your hands to bring the dough together.
Putting The Feijoa Cake Together
Grease your baking dish with butter.

Fill with 2/3 of the dough and press evenly down with your fingertips.

Add the feijoa slices on top and spread them out.

Top the feijoas with the remaining dough as crumbles.

Bake at 180 Degrees Celcius/350 Degrees Fahrenheit for 25 minutes or until the crumbles are golden brown. I use the convection/fan-forced setting.

Serve while still warm with custard or vanilla ice cream
Video
bestwafflemakersandmore.com is a participant in the Amazon Services LLC Associates Program, an affiliate advertising program designed to provide a means for sites to earn advertising fees by advertising and linking to Amazon properties including, but not limited to, Amazon.com. Amazon offers a small commission on products sold through their affiliate links.