Here is another one of my all-time favorite recipes: stuffed cheese bread with our extra delicious topping which also serves as a dip at the same time.
You don't need any yeast, so the bread will be ready in around 30 minutes. The perfect meal idea for a quick dinner or lunch.
Here are more dinner ideas: Slow Cooker Pulled Pork, Tender Chicken Breast in White Wine, or Easy Sourdough Pizza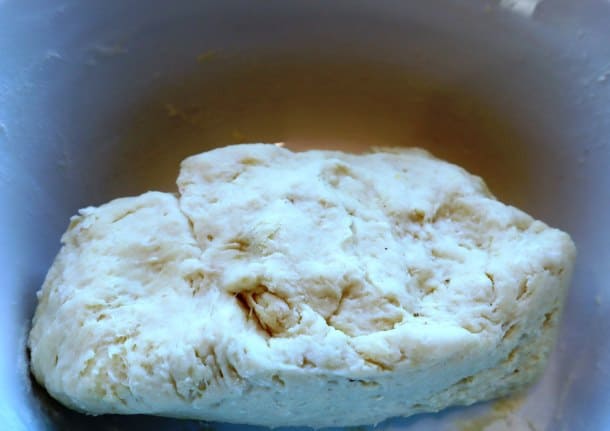 For the dough, you will only need 3 ingredients: self-raising flour, yogurt, and a bit of olive oil. You will also need to add a little bit of salt. Done!
Quick, easy, and very tasty.
Related post: 2 Ingredient White Dinner Rolls
I do like to rest the dough for 15 minutes. It also gives me enough time to prepare the cheese filling.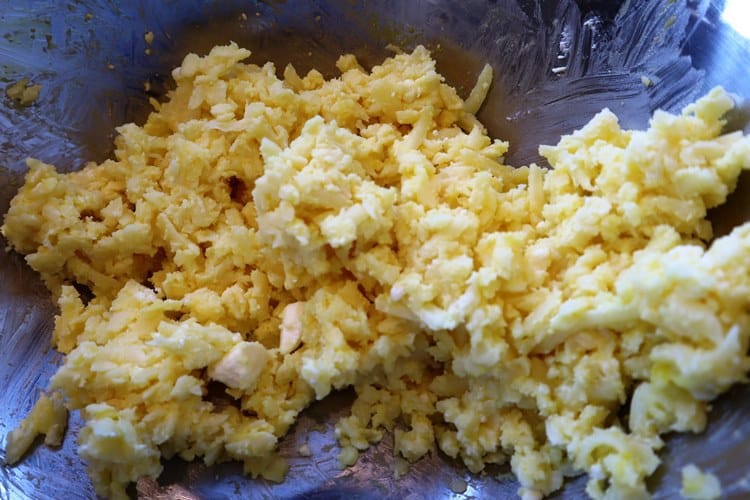 The cheese filling consist of three different types of cheese: Feta, Colby, and Mozarella cheese. A fresh egg binds the cheese together, ready to be spread onto the dough.
The dough needs to be rolled out with a rolling pin. The thickness of the bread is similar to a pizza.
By the way, the recipe makes two stuffed cheese breads so there is enough to go around for everyone. There might even be some leftovers for next days lunch.
When you spread the cheese filling onto the dough, make sure to leave some space around the edges. Once you put the cheese filling on, grab the edges and fold them together going around in the circle.
Watch my video to check the technique out. It looks a bit fiddely but you will get the hang of it quickly.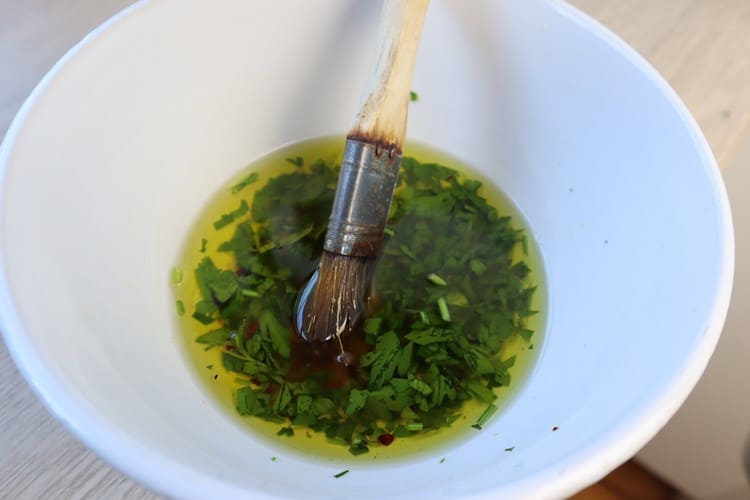 To make our stuffed cheese bread even more delicious, it is essential to brush the topping onto the cooked side of the bread while the other side is still cooking away in the large frying pan.
The topping is very simple yet absolutely delicious. Grated garlic, fresh aromatic parsley, chili flakes, and, of course, extra virgin olive oil.
We also use the topping as a a dip. Just dunk in your cheese bread, and Oh My …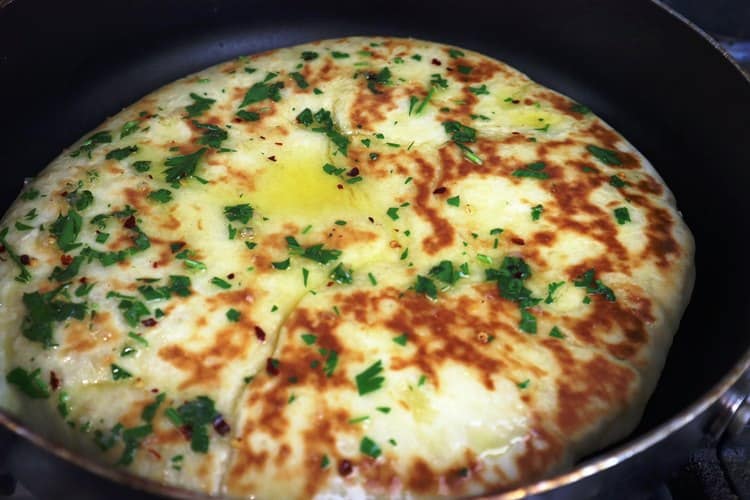 There are so many occasions you can serve this tasty cheese bread. Think of it as a snack for parties, a light lunch, or a nice dinner with a salad on the side. You could even use for a lazy Sunday brunch, maybe together with our Breakfast Casserole.
This bread stuffed with delicious cheese and a garlicky herb topping is just as versatile as our Spanish tortilla recipe.
Without further ado, let's check out the full printable recipe.
---
Easy Stuffed Cheese Bread – No Yeast, No Oven
Homemade Stuffed Cheese Bread – No Yeast, No Oven
Our delicious homemade stuffed cheese bread with a garlicky herb topping is ready in around 30 minutes. You don't need an oven to cook it. Serve with a side salad and you have the perfect tasty vegetarian dinner.
Ingredients
The Dough
4

cups

self-raising flour

1 1/2

cups

Greek yogurt

1/3

cup

extra virgin olive oil

1

tsp

salt
The Cheese Filling
2

cups

grated mozzarella

125

grams

(4oz) feta cheese

1

cups

Colby cheese

1

egg
The Topping
1/2

cup

extra virgin olive oil

1

bunch

chopped parsley

1

clove

grated garlic

1

pinch

chili flakes
Instructions
The Dough
Put the self-raising flour into a bowl. If you don't have self-raising flour, use all-purpose flour and add 1 tsp of baking powder to each cup of flour.

Add the salt and mix well.

Now you can add the yogurt and olive oil. Mix with a wooden spoon to combine the ingredients.

Tip the mix onto a workbench and start kneading the dough with your hands.

Knead until the dough is smooth and soft. It should only take two to three minutes

Put the dough back into the bowl and cover. Let it rest for 15 minutes.
The Cheese Filling
Put all three different kinds of cheese into a bowl.

Add the egg and mix thoroughly with your hands until well combined.
The Topping/Dip
In a small bowl combine the olive oil, parsley, grated cheese, and chili flakes.
Video
bestwafflemakersandmore.com is a participant in the Amazon Services LLC Associates Program, an affiliate advertising program designed to provide a means for sites to earn advertising fees by advertising and linking to Amazon properties including, but not limited to, Amazon.com. Amazon offers a small commission on products sold through its affiliate links