Welcome to my recipe post where you will learn how to make this easy fresh apple cake recipe with my secret' topping. It will take this apple cake to the next level of delicious goodness. Pinky promise!
This beautiful homemade apple cake made with lots of fresh apples is so moist and aromatic that you will instantly fall in love with it.
And thanks to our topping, the crust is slightly crunchy with an irresistible buttery flavor to it.
I have to apologize in advance for not having more pictures but I just forgot to take them. But do not worry. here is my step-by-step video tutorial, just in case you are not too sure about certain steps.
For this fresh apple cake recipe, I am using five medium-sized apples from our apple tree. It won't get fresher than this.
Related recipes: Apple Cake with Fresh Apples and Authentic German Apple Cake.
Simply peel the apples and cut them into very thin slices. Put them into a large bowl and drizzle with lemon juice and cinnamon sugar.
Making the batter is pretty straightforward too. You'll need 2 eggs, melted butter, flour, baking powder, and milk. And please, don't forget the vanilla extract. It tastes so much better.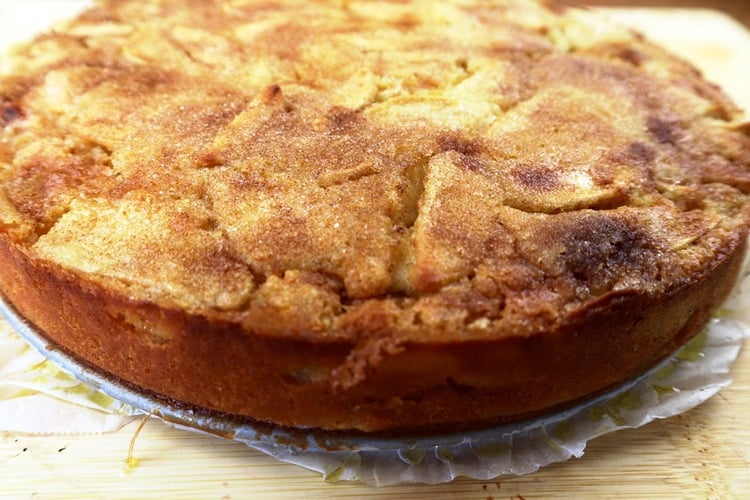 But what really makes this apple cake so special is the topping consisting of brown butter and a sprinkle of cinnamon sugar. You put it on just before the cake is cooked through.
That way, the butter, and sugar can form a perfect crust in the hot oven.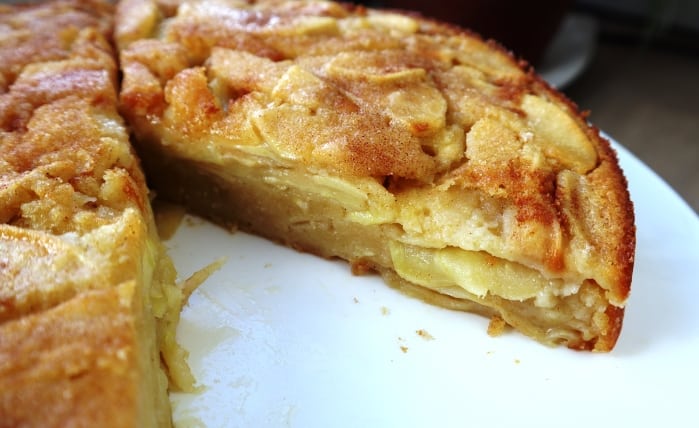 We do love to enjoy this amazingly easy-to-make apple pie with a dollop of cream and some vanilla ice cream. To me, it is the perfect dessert or a special treat for afternoon tea.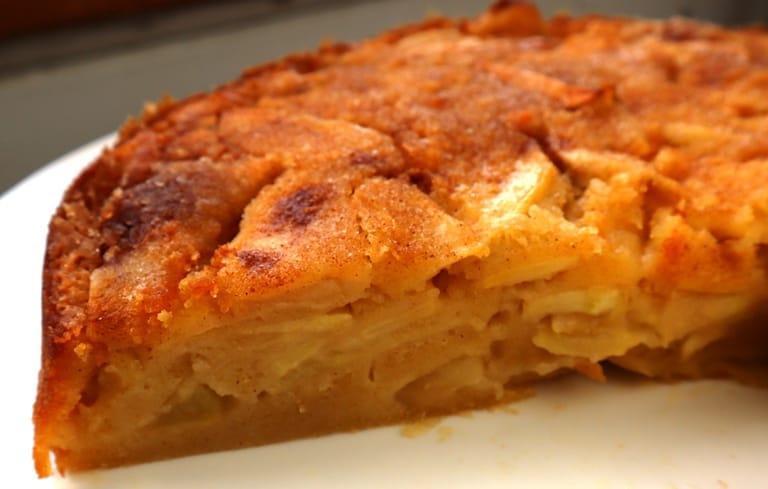 Without further ado, let's get right to the recipe. By the way, you don't need to have a hand mixer to put this easy recipe together.
I just used a whisk and it was done in no time at all.
---
Easy Fresh Apple Cake Recipe – More Apples Than Dough
Easy Homemade Fresh Apple Cake Recipe
This moist apple cake is so easy to make with more apples than dough. And if you follow my extra tips and steps, the apple cake will be elevated to the next level of deliciousness.
Ingredients
5

medium sized

apples

2

eggs

1/2

cup

sugar

1

tsp

vanilla extract

100

grams

3oz melted butter

1

cup

milk

1

tsp

baking powder

1

cup

flour

1/2

lemon – juice
To Make Cinnamon Sugar
1

tsp

ground cinnamon

5

tbsp

sugar
Topping
1

tbsp

cinnamon sugar

25

grams

1oz butter
Instructions
Get The Apples Ready
Peel and quarter the apples. Cut in very thin slices.

Place the apple slices into a big bowl.

Drizzle the lemon juice over the apples. Stir in one tablespoon of cinnamon sugar.

To make the cinnamon sugar, simply mix the ground cinnamon together with the sugar. Mix thoroughly.

1 tsp ground cinnamon,

5 tbsp sugar

Set the bowl aside for later.
The Cake Batter
Put two eggs with the sugar and vanilla extract into a mixing bowl. Whisk together.

2 eggs,

1/2 cup sugar,

1 tsp vanilla extract

Add the melted butter and whisk.

100 grams 3oz melted butter

Add the baking powder to the flour and sieve into the mixture.

1 tsp baking powder,

1 cup flour

Either fold in with a spatula or use the whisk. Don't worry if it looks a bit lumpy.

Lastly, add the apple slices. Make sure the apples are coated with the batter.

Pour the apple/ cake batter into a lined springform baking pan.

Bake in a preheated oven at 350 F/180 Degrees Celcius for 30 minutes. After 30 minutes add our special topping. Please note: the cake is not fully cooked yet.
Get The Topping Ready
While the apple cake is in the oven, get the topping ready. We have got the cinnamon sugar already.

Now we have to make brown butter: gently melt the butter on low heat.

Increase the heat to medium and fry the butter until it changes its color to a light and slightly darker brown. You will notice that there is a bit of foam on the butter and a lovely aromatic smell. You don't want to burn the butter.

Once you got the desired color turn off the heat.
After 30 Minutes Baking Time
Take the cake out of the oven and drizzle the brown butter over the top.

Add 1 tablespoon of cinnamon sugar on top.

Put the cake back into the oven and bake for another 15 minutes. It will have a beautiful golden-brown crust on the top.

Let it cool down for a bit and enjoy with some cream and maybe a scoop of vanilla ice cream!
Video
bestwafflemakersandmore.com is a participant in the Amazon Services LLC Associates Program, an affiliate advertising program designed to provide a means for sites to earn advertising fees by advertising and linking to Amazon properties including, but not limited to, Amazon.com. Amazon offers a small commission on products sold through its affiliate links